In the basic online version, MailCleaner Anti Spam is offered as a service that is hosted and maintained directly on MailCleaner's backbone network. This is the Cloud Based Anti Spam Solution (SaaS Anti Spam). E-mail that is destined for your domain is routed through the MailCleaner spam filter.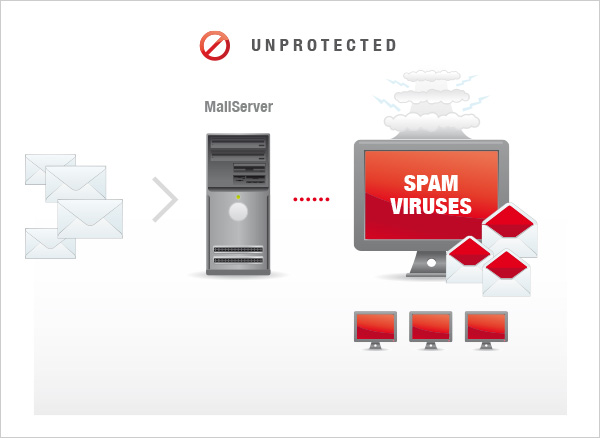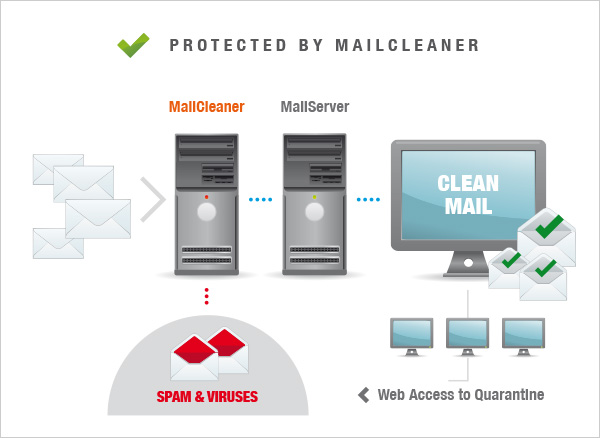 MailCleaner analyzes your message using a variety of different filter layers. "Clean" messages are forwarded to your original mail server. Messages that are infected with a virus or detected as spam are placed in quarantine from where you can force their delivery at will via the web interface or the periodic summary report. This strategy relieves your mail server of unnecessary loading by spam and infected e-mail.
Cloud hosted spam email filter for enterprises
MailCleaner hosted services is the ideal solution for small to medium-sized businesses, or private individuals who have a domain name but do not have a network infrastructure that demands a dedicated filtering server. Any domain can quickly fall prey to viruses and spam. Today, protection has become a necessity. Compared with other filtering solutions on the market today, MailCleaner offers a level service that is unbeatable in reliability, simplicity and efficiency.
Easy to install anti spam protection
The deviation of email destined for your mail server toward the MailCleaner server is accomplished by changing the MX record of your domain. The MX record is the element that tells the other mail servers in the world where to forward mail when it is sent to somebody@yourdomain.com. Once your email is filtered by MailCleaner, it is redistributed to your mail servers as if the mail arrived there directly. The advantage to this system is the simplicity of installation and data flow. There are no changes to be made to the configuration of your mail server, or the configuration of your e-mail program. One simple change by your ISP (or by your IT team, if your DNS servers are in- house) and MailCleaner is ready to relieve your inbox of the strains of spam. The user management interface is built directly on the MailCleaner Antispam server. You can force the delivery of certain messages, check the overall state of the quarantine and change the frequency at which periodic reports are sent to you using this simple tool.
 
MailCleaner Cloud Antispam
Spam rules update
Automatic 15 Minutes
Software update
Automatic 15 Minutes
Virus definitions update
Automatic 1 Hour + Professional signatures
Newsletter detection module
Professional RBLs
MailCleaner IP & URI RBLs
invaluement IP & URI RBLs
MailCleaner SPF list
Machine learning
Artificial intelligence (AI)
Support
Support Basique
(E-Mail)
Answer upon 24 Business Hours and Best Effort Outside
Multi-domain support
Advanced OCR
Clustering
User interface
Professionnal
Admin interface
Professionnal
Spamhaus ZEN IP
Spamhaus Content
Message Sniffer
Kaspersky